Who, indeed?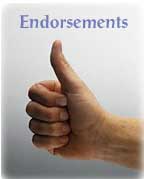 Congressional candidate Bruce O'Donoghue picked up two key endorsements this fine Monday morning at
Four Rivers Smokehouse
in Winter Park.
The first came from former U.S. Senator Mel Martinez, who has known Mr. O'Donoghue since he was in the sixth grade.
The other was made by former Lieutenant Governor Toni Jennings, whose brothers went to the University of Florida with O'Donoghue.
And, yet, the guy he's campaigning to replace is pretending like he will have no real competition. When asked what he thinks of the new candidate, Alan Grayson's supporters dutifully respond, "O'Donogh-who?!"
A regular laugh riot they are, no?
I suspect, however, the joke is going to be on them come November.
That they profess not to know who O'Donoghue is only highlights how very shallow Grayson's roots are in this community.
His potential successor summarized the situation rather well. "I think that Mr. Grayson is passionate about what he believes, and his style is unique," said Mr. O'Donoghue. "But, he is somebody who doesn't represent the values of the people of Central Florida."
True.
Labels: Alan Grayson, Bruce O'Donoghue, Congress, Mel Martinez, politics, Toni Jennings