45-15 mudder at Joke Shambles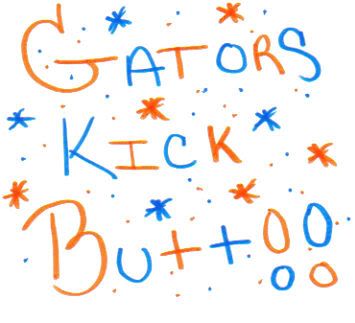 It used to get quite tense around this little corner of heaven this time of year, as the Gators and Noles squared-off to earn the annual bragging rights.
The shine has come off the rivalry lately, though, as FSU clings to the outdated gamebook of The Lumbering Dinosaur.
Still, it's always good to serve it up to the formerly-cocky Nole fans, especially on their home turf.
The boys in Orange and Blue certainly did that this afternoon, despite all the rain and the slippery playing field.
The first half was pretty interesting with both teams marching down the field and scoring with just about every possession . . . though the Gators got touchdowns and the Noles only got field goals.
Then, just before halftime, the Noles got foolish and sacrificed a short field goal to attempt a trick play, and the Gator D shut them down.
The second half was all Tim Tebow. He put up 265 yards . . . that's 23 more than the entire Nole offense! 185 of those yards were from passing (12 for 21, 3 TD's and ZERO int's). The rest were rushing yards on 16 carries. He is clearly "the man," and made a serious case for a repeat Heisman.
Meanwhile, the Noles were desperately switching-out QB's. Their starter Ponder apparently got injured. So, they tried to mix things up by alternately substituting their 2nd and 3rd stringers Weatherford and Richardson . . . all to no avail.
The result was a 30-point Gator victory over what was supposedly the #20 team in the nation.
The only cause for concern was Percy Harvin's apparent ankle injury. We'll have to monitor that as UF gears-up for the bigger challenge of Alabama in next week's SEC championship game up in Atlanta.
ORANGE AND BLUE!