The End of Prosperity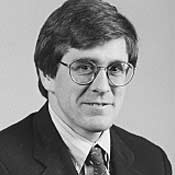 That's the title of economist Stephen Moore's most recent book on how higher taxes will doom the economy . . . if we let it happen.
Yours truly had the pleasure of spending his lunch hour with Moore here in Orlando today. Thanks to Doug Doudney, the unofficial head of the breakfast bunch, for inviting him to join us as the keynote speaker at the Coalition for Property Rights' fall forum.
Ye socks may have read Moore's frequent columns in
The Wall Street Journal
or seen him on various talking head shows.
He's really a brilliant guy, and had a lot of interesting anecdotes. But, it was his charts that impressed me most. He had more of them than Ross Perot had on the campaign trail back in 1992. All of which reinforced what I already knew, that the increase in the size of government and the level of taxation soon to be instituted by The Disaster in Waiting will lead to even more economic suffering for all Americans.
Almost couldn't finish my lunch.
Almost.
But, that's not Moore's fault. I encourage you to check out his book, and get prepared!
Labels: Barack Obama, economy, taxes